| | |
| --- | --- |
| | |
Latest Events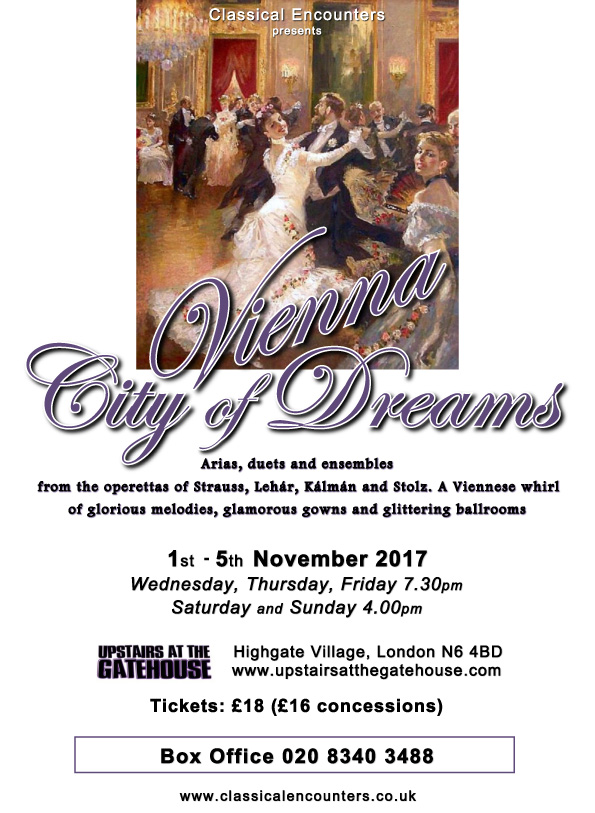 Following their production of 'The Mikado' last year, Classical Encounters are delighted to return to the Gatehouse with a musical tribute to Vienna's Golden Age, featuring songs from Die Fledermaus, The Merry Widow, The Count of Luxembourg, The Land of Smiles, The Opera Ball, The Gypsy Princess, White Horse Inn, The Student Prince and many more. 
The operettas of the Strauss family, Franz Lehár, Emmerich Kálmán and Robert Stolz were the popular music of their day, and the melodies they created still touch the hearts of all who hear them, be it for the first or the hundredth time. 
Performed in period costume and featuring: 
Alinka Kozari, soprano
Sally-Ann Shepherdson, soprano
Cameron Rolls, tenor
Trevor Alexander, baritone
Peter Crockford, piano

"Described, quite rightly, as the most delightful Musical Evening we have ever had… the delightful programme; beautiful voices and superb presentation, to such expertise in accompaniment. What an evening to remember for all time."

"I am not a fan of opera normally, but I really loved it – all the cast were tremendous!"
---
A Night at the Opera
in aid of North London Samaritans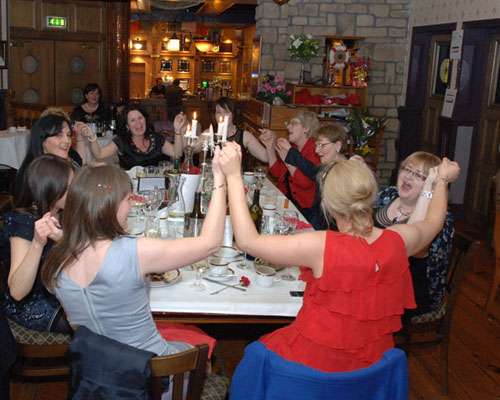 In September, Sally-Ann and Trevor performed at Bounds Green Bowls and Tennis Club in north London, to help raise funds to renovate nearby Shaftesbury Hall into offices for the  Samaritans, and to provide a hall for the use of the local community. The programme included many favourites from the world of opera and the musicals. Many thanks to Bowes Park Community Association for all their help.
CLICK HERE to watch Classical Encounters' Showreel
---

Classical Encounters joined Maidstone Choral Union in July for
'An Evening in Vienna'
at All Saints Church, including music by Brahms, Johann Strauss and Franz Lehár. Performed by Sally-Ann Shepherdson, soprano, Pauline Birchall, mezzo-soprano, Declan Kelly, tenor and Trevor Alexander, baritone.



---
The Mikado
Classical Encounters performed Gilbert and Sullivan's comic masterpiece from 12-16 July 2016, at Upstairs at the Gatehouse, Highgate, London.
featuring members of the D'Oyly Carte Opera Company, Opera della Luna and the Carl Rosa Opera
12 - 16 July, 2016 – Upstairs at the Gatehouse, Highgate Village, N6 4BD

Gilbert and Sullivan's comic masterpiece has been delighting audiences since its first performance at the Savoy Theatre in 1885. Featuring all the favourite numbers: Ko-Ko's Little List Song (with up-to-date topical references), Three Little Maids from School, Here's A How-De-Do, A Wandering Minstrel I, The Sun Whose Rays, The Kissing Duet, The Mikado's Song, Alone and Yet Alive, and There is Beauty in the Bellow of the Blast. This hilarious comedy is still delighting audiences 131 years later and is highly suitable for corporate entertainment and charity events, as the production can be reduced or expanded to suit any venue.

CAST
The Mikado - Bruce Graham
Nanki-Poo - Declan Kelly
Ko-Ko - Trevor Alexander
Pish-Tush - Ian Belsey
Pooh-Bah - Graham Stone
A Noble - Alexander Jeffries
Katisha/Peep-Bo - Pauline Birchall
Yum-Yum - Sally-Ann Shepherdson
Pitti-Sing - Una McMahon
Bridesmaids - Chloë Stratta and Mai Kikkawa
Music Director - Peter Crockford - Glyndebourne, WNO, London City Opera
Stage Manager - Nicola Candlish - Opera della Luna, Shakespeare's Globe, London Palladium
Classical Encounters were invited to perform at a Last Night of the Proms concert at Watton Abbey in Yorkshire, with their tenor colleague, Alexander Anderson-Hall. The audience were treated to favourites from Verdi's La Traviata and Rigoletto, Rossini's Barber of Seville, Bizet's Carmen; songs from My Fair Lady, West Side Story, Kiss Me Kate, and  a flag-waving finale of Rule, Britannia, Jerusalem and Land of Hope and Glory.

"Just to say a big thank you for a brilliant evening. Everyone I have spoken to said it was fabulous and to see them all standing waving their flags says it all. Looking forward to seeing you again."
Eileen, organiser, Last Night of the Proms at Watton Abbey.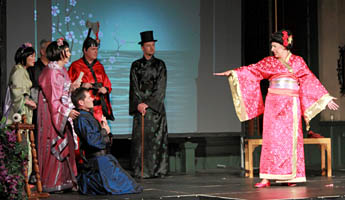 The Mikado. Sally-Ann, Trevor and mezzo-soprano Pauline Birchall performed in their production of The Mikado at St Michael and All Angels Church, Turnham Green, with Father Kevin Morris appearing as a guest in the title role, much to the delight of the local audience.
"Thanks for bringing the Mikado to our Festival. It was the highlight this year. A very beautiful and well sung production and much appreciated by the folks of Bedford Park. Well done!" Father Kevin Morris
Recent performances include A Victorian Christmas and A Savoy Miscellany at the Royal Automobile Club in Epsom, The Golden Age of Hollywood for a RED CROSS fundraising event in Canterbury, A Miniature Mikado in Newcastle and Essex and We'll Meet Again in Worksop and Co. Durham.
Left: Following the success of their Gilbert and Sullivan-based programme, A Savoy Miscellany, Classical Encounters were invited to perform for the Annual Convention of the Gilbert and Sullivan Society at Grim's Dyke (W.S Gilbert's former home), in the presence of HRH The Duke of Gloucester.

Right: Sally-Ann and Trevor performed their Spanish programme, A Night In Seville, for a summer fund-raising dinner at Watton Abbey in Yorkshire.
Sally-Ann and Trevor have made four appearances at The Crossing in Worksop, Nottinghamshire, in programmes including We'll Meet Again, Some Enchanted Evening, A Night in Vienna and most recently, The Golden Age of Hollywood.

Other performances include a concert of G&S and operetta favourites for the Gilbert & Sullivan Society's annual Bernard Goss Memorial Concert in London, and two appearances with The Spa Concert Orchestra in Scarborough, in The Golden Age of Hollywood and Two Hearts In Waltz Time.
Classical Encounters have performed their popular show A Victorian Christmas at several venues, including The Royal Automobile Club, Epsom, Rowley Manor Hotel, E. Yorkshire, and churches in Co. Durham and Swansea.

Right: Classical Encounters performed A Night at the Opera for a fund-raising dinner at Rowley Manor Hotel, E. Yorkshire, featuring arias and duets from La Traviata, Rigoletto, Carmen, Phantom of the Opera and My Fair Lady.
| | | |
| --- | --- | --- |
| | | |
| A Night at the Opera at the Lansdowne Club, Mayfair, London | Sally-Ann & Trevor performing Around the World in 80 Minutes at Burton Mount, Yorkshire | A White Christmas at Rowley Manor Hotel with pianist Bernie Lafontaine |
"Described, quite rightly, as the most delightful Musical Evening we have ever had…
the delightful programme; beautiful voices and superb presentation, to such expertise in accompaniment.
What an evening to remember for all time." Ed and May, Viennese concert, Kent